What is White tea?
Since it is so lightly processed, white tea is considered one of the most delicate tea types. White tea is harvested before the leaves of the tea plant completely open, when the young buds are still covered in fine white hairs, hence the term "white."
These buds and unfurled leaves from the tea plant's newest growth are handpicked and dried quickly and meticulously, so the leaves do not oxidise as much as leaves harvested for green or black tea output. The leaves are only withered and gently rolled to make white tea. As a result, the drink is exceptionally light, pale in colour or blush in tone, and has mellow floral-fruity flavours. This low oxidation and limited processing results in some of the most delicate and fresh tea available.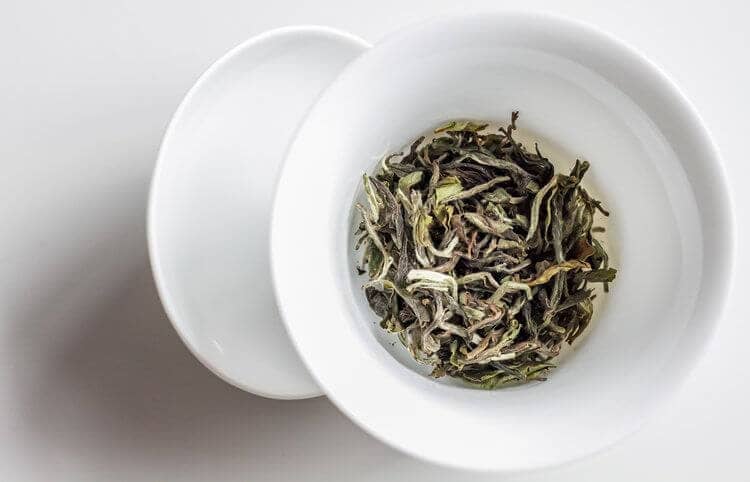 What are the various types of white tea?
Today, many countries outside China are cultivating their own versions of white tea from other tea plant varieties. Some of the most popular white tea varieties include:
Silver Needle: A genuine Silver Needle is grown from the original varieties of China's white tea plant in the Fujian province of China. It's made from big, full buds that are coated in white, downy hairs, which give the tea its silver hue. Although today, most high-elevation tea-growing regions such as Arunachal Pradesh and Darjeeling cultivate Silver Needle white tea.
White peony: A newer form of white tea, white peony is grown in China and other parts of the world. It can be grown from a Chinese white tea bush or from a different variety. Some buds are usually mixed in with unfurled or barely opened young tea leaves.
Darjeeling White Tea: This variety is made from tea plants native to India's Darjeeling region, rather than the original Chinese white tea plant variety. While the processing method is similar to that of Fujian white teas, the flavour profile varies significantly.
How much Caffeine does white tea have?
White tea, as opposed to green or black tea, is believed to contain less caffeine. The caffeine content of the original Fujian white tea plant, which is native to China, has been shown to be lower than that of other tea plants. However, other tea plant varieties grown for white tea around the world may not be as caffeine-free. According to some research, depending on where they were grown and how they were handled, white teas may contain as much as or more caffeine than green or black teas. Finally, the caffeine content of any beverage made from a caffeinated plant varies depending on a number of factors, such as where the plant was produced, how it was handled, and how it was brewed for your cup.
Five Benefits of White tea?
Rich in antioxidants: Catechins, a form of polyphenol found in white tea, are abundant. Polyphenols are plant-based antioxidants. Antioxidants shield cells from the damaging effects of free radicals. Free radical damage in excess can be harmful to the body. It has been related to ageing, chronic inflammation, a compromised immune system, and a wide range of diseases. Thankfully, white tea tends to be one of the most powerful teas for countering free radicals. Indeed, studies show that white tea has antioxidant properties similar to green tea, which is well-known for its health benefits.
May Reduce the Risk of Heart Diseases: Polyphenols contained in white tea can help to relax blood vessels, improve immunity, and prevent the oxidation of bad cholesterol. These elements can assist in lowering the risk of heart disease.
Could Help You Lose Weight: Caffeine and catechins like EGCG are abundant in white tea. These two compounds can work together to help the body burn fat and increase metabolism.
May Lower the Risk of Insulin Resistance: Insulin resistance is a dangerous disorder that has been connected to a number of chronic diseases. Polyphenols, such as those present in white tea, have been shown in studies to reduce the risk of insulin resistance and enhance blood sugar regulation.
Helps Combat Skin Aging: White tea and its constituents can help to protect the skin from the effects of ageing. This involves both external and internal damage caused by cellular components that can affect the skin's fibre network.
How to make Iced White tea
White tea can be consumed chilled as well. Let's look at a recipe for the same.
Place tea bags in a heatproof jug. Pour in 1 litre (4 cups) boiling water and allow to steep for 3-5 minutes. Remove tea bags. Add honey to taste, if desired, and stir to combine. Place in the fridge to chill.
Add lemon wedges and mint sprigs to the jug. Allow standing for 1-2 minutes to infuse, then serve in glasses with extra lemon wedges and mint.
Buy white tea from our shop today.